Theology
News -
Theology
Written by Tim Black
Tuesday, 13 January 2009 20:46
A friend of mine from seminary asked for some good sites providing resources for Reformed youth ministry. For your and my sake I'm posting what I came up with.
Check out -

Reformed Youth Ministries - I only know it as RUF for high schoolers, but I expect they are good. Their resources page looks good.
http://www.ruf.org/ - the mother lode - get their RUF Hymnbook shortcut If not their site, their people are the ones to find.
http://reformedyouthpastor.com/ - good videos
Reformed Youth Services - appears to be a ministry of the URC
http://www.sowhatstudies.org - Youth Bible studies by Great Commissions Publications

I bet RTS and Covenant Seminary have some resources; I know Covenant Seminary has decided to put all of their course material online for free.

While I wouldn't use their resources exclusively, when I want to find a Bible study guide, SS curriculum, or book for a discussion group, I'd look first at the following because I know their material is reformed:

Presbyterian & Reformed Publishing
Great Commissions Publications
Matthias Media
Westminster Theological Seminary Bookstore
Beyond that I might call up the CRC because they had lots of youth material when I was growing up; they can be more theologically liberal than I prefer, though, so like everything you have to be discerning.
I've seen a catalog from the Vision Forum, and while they have resources for youth, there's something about their classical education / homeschooling / American Revolution / Christian reconstruction / old fashioned clothes style that seems atavistic to me. There might be some good material there, though.

I'm not familiar with this site:
http://reformingstudents.com/

Some articles from Modern Reformation:
July/August 2003 Vol: 12 Num: 4 - Every-Generation Youth Ministry by G. Mark Sumpter Side Article
July/August 2003 Vol: 12 Num: 4 - Engaging the Coming Generation: An Interview with Colleen Carroll by
Jan./Feb. 2001 Vol: 10 Num: 1 - Charles Hodge on Christian Nurture by Side Article
Jan./Feb. 1995 Vol: 4 Num: 1 - Reforming Youth Ministry by David Fields

I'm sure there's more out there.
The guy in the OPC to hit up for materials is Rev. Mark Sumpter. He writes,
If you want a general theology overview with discussion use, try RC Sproul What is Reformed Theology? Presently our Youth Class uses it. The teacher adapts the study guide material for discussion purposes. Some of the material will be a little advanced, but with guidance it is do-able. The class or youth group setting would watch a 25 min video and then discuss things.
If you want a study on the Doctrine of God, His attributes, I have used JI Packer's Knowing God. IVP (Intervaristy) puts out a study guide that goes with the book. Usually students are given a summary of the chapter, I type it up, and then I use the summary as a basis for orienting the class to the doctrinal topic. The study guide helps as a discussion guide.
If you want a excellent study on calling, purpose in life, work, giftedness, and servanthood, I recommend the newer book by John Piper. The book is fairly readable, a paperback, and is called, Don't Waste Your Life. There are one or two spots that may be a little advanced, but on the whole it is excellent. One of the editions of the book has a CD with it. On the CD Pastor John Piper speaks to students. He's excellent. The book handles really well God's Lordship in our lives, materialism, wasting your life with run-of-the-mill American Church-i-anity, and so on. His chapter on work, earning a wage, why work, why a job is great. I think there's a study guide with this book too.
If you want a study on learing about a worldview and apologietics, you might try the video series called Every Thought Captive. It is a series available from Reformed Seminary in Orlando, FL. It's done by Richard Pratt. I think there are about 8-10 sessions in the whole of the material. I have used the series, a little selectively, and then make use of the 8 1/2 X 11 study guide materials. I photo-copy the sheets. He takes a student through the the basics of why we know what we know, and therefore, why we believe what we believe. A little advanced in places but a good possibility. Again, like the RC Sproul material above, I would show a 20-25 minute video and then stir some discussion with the young people based on the study guide. Pratt has a book by the same title.
If you want a good study on Bible texts, biblical culture, and some sound theoogy tied into the Biblical texts try the video series That the World May Know, by Ray Vander Laan. Vander Laan is the well-known Christian school teacher back in Michigan who published about 8-10 years ago a multiple-series of teaching on Bible lands, Bible places, and good engaging lessons on Bible study texts and stories. If you Google in the web That the World May Know, it will come up. Videos, CDs, study guides and discussion material is provided. I have heard of two of OPCs using it. Both have been blessed. Vander Laan teaches at a CRC-based Christian school, at a High School, so he can connect with young people. It may be a little expensive, but check around: maybe a local church has it in their local church library there in San Jose and they'll let you check it out, or have Covenant go ahead and purchase it. Maybe you can buy it in increments. Tim, I have heard it's good stuff. I have never gone through it myself. But on the testimony of others, it's good.
I know that some churches are using the Jerry Bridges material: Trusting God, The Joy of the Fear of God, and Transforming Grace----and other books. These all have study guides. These are excellent in grace-based, sanctification issues and Christian growth issues. Again, the leaders would have to provide chapter summaries, and work through the study guides to prepare some discussion sheets. Good stuff. I have used parts of the Bridges material for counseling and studies.
I (Tim) note that I've read some reviews of Ray Vanderlaan's teaching which convinced me that he has some strange and sometimes erroneous interpretations of scripture, so I can't recommend his material.
Last Updated on Tuesday, 22 March 2016 08:05
News -
Theology
Written by Tim Black
Saturday, 10 January 2009 10:46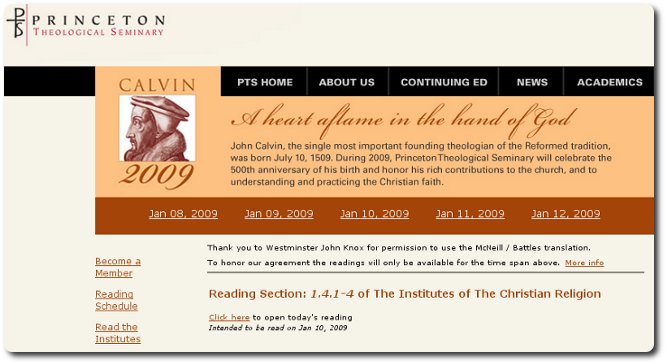 Princeton Theological Seminary is hosting "A Year with the Institutes," a daily reading of Calvin's Institutes, on its website.  Point three of today's reading is summarized in Battles' heading:
3. We are not to fashion God according to our own whim
And Calvin's first sentence for today reads,
As experience shows, God has sown a seed of religion in all men.
But the audio recording of that sentence provided by Princeton says this:
As experience shows, God has sown a seed of religion in all people.
You can catch up on the gender-inclusive language debate in the comments on Princeton's site.  I'm reminded of Richard Muller's excellent book, "The Unaccommodated Calvin," which shows how Calvin's interpreters like to fashion Calvin's meaning according to their own whims, and recommends it's better for your soul if you don't do that.
Old school liberal theology is dead in the academy, but it hasn't been replaced by a return to conservative orthodoxy at Princeton.  It's been replaced with neo-orthodoxy and varieties of postmodernism, which allow the same practical results as liberalism did:  loose views of scripture, Marxist biblical interpretation, social activism, & politics, women in office, approving of homosexuality, etc.  So, in my estimation, Princeton understands its roots in the conservative Reformed tradition and considers itself Reformed, but isn't conservative, so isn't Reformed, at least not in a sense of which Calvin would have approved.

So I think it's fine to recommend discerning readers follow the proposed reading schedule, but I wouldn't encourage the average church member to seek spiritual guidance from the plan's organizers at Princeton.
Last Updated on Saturday, 10 January 2009 11:45
News -
Theology
Written by Tim Black
Thursday, 24 January 2008 10:45
A friend from Westminster writes,
You may or may not already be aware of what has been going on at WTS, particularly to do with the departure of Steve Taylor and the mounting backlash towards Pete Enns' Incarnation and Inspiration, but there is an online petition at www.saveourseminary.com for all WTS students, alumni, staff, friends, etc. to consider.
In the hope of convincing her and others of my friends and former roommates who have signed the petition, I had to respond to encourage them to reconsider the wisdom of doing so.
I won't promote the petition you forwarded to me, because its opposition to the following:
Vision Forum – indicates an opposition to conservative politics, because of liberal political/social commitments
The criticism of Pete Enns' book – indicates an acceptance of the postmodern interpretation of our situation as the sitz-im-leben from which we must interpret scripture
Lane Tipton's article – indicates an opposition to former WTS professor E. J. Young's theological methodology of believing the Bible
The lack of sufficient redress – indicates a publicly critical attitude & method of achieving reconciliation.  It is best to discuss faculty disagreements over whether a faculty member is keeping the vows he took upon becoming a faculty member on a need-to-know basis (Matt. 18), while maintaining open discussion and debate of the academic issues of the day.
The above aspects of the petition are not things I would like to promote.  Rather, coming from a conservative Reformed background, and an undergrad education at a highly ranked Reformed liberal arts college, I was dissatisfied with Westminster's weakness on each of the first three points above.  I appreciate Westminster's interest in carefully studying and evaluating ideas that are new and potentially of value.  However, to me, the petition's four points above indicate a lack of deep commitment to the mature biblical Christianity found in the Reformed tradition, which I have found to provide far better truth and methods than do the motivations that appear to be in evidence in the petition--a liberal social agenda, postmodern hermeneutics, and a complaining or combative alarmism on the part of the disenfranchised.  These things will not save our seminary.  I'd rather see my friends and the seminary be saved from this petition.
Which view is truly disenfranchised at Westminster--the progressive or conservative?  Some alumni from 50 years ago claim it is the conservative Reformed tradition.  I think the best answer is "neither" or "both."  Sometimes it has been difficult to put my finger on how my experience of conservative Reformed Christianity in Philadelphia differed from my years growing up in a CRC in Eastern Washington State, and studying in the South at Covenant amidst the OPC and PCA.  The above list brings some clarity to my thought regarding what is uniquely parochial about what the Reformed surrounding Westminster consider cosmopolitan.  In my opinion, a deeper or broader grasp of the Reformed tradition and its community might help some of my friends (and former roommates!) who signed the petition to better understand my opposition to the petition.  Perhaps you do interpret the world and scripture from within a postmodern worldview.  I don't.  I don't trust my own interpretation unless it flows by the power of God from the Holy Spirit speaking in scripture, and unless it is faithful to every word of scripture, and not just the parts I prefer.  It is exegesis of this sort that gave Calvin and the Reformed tradition its distinctively and fully Biblical doctrine--even its continually developing expression of orthodox Biblical Theology--and it is exegesis of this sort which is excellently summarized in the confession from which our seminary derives its name.  To sign this petition--wittingly or not--is unfairly to impugn the biblical faithfulness of the tradition of the Westminster Confession, and of Westminster Seminary itself.  I decided to write this to you in case it might help you develop your thoughts, or change your mind, regarding the petition.  While my saying "please learn more of the Reformed tradition before criticizing it" won't help you know that the petition is wrong, and could easily come across as self-righteous, please consider whether the petition is promoting the whole, and the best, of that tradition, or consider withholding judgment on the petition.
I agree with the petition's specific critiques of the Vision Forum.  I expect President Lillback does as well, except for (what I vaguely recall as) his friendliness toward the idea that America had Christian origins.  However, many in the Reformed community appreciate other aspects of the Vision Forum's work (e.g., promoting godliness and Christian family life), and it's a good thing for the seminary president to speak to various groups without always publicly distancing the seminary from those groups where they disagree.  "Everything is permissible," but "not everything is beneficial."  On that point the petition's recommendation that the seminary distance itself from the Vision Forum conflicts with the petition's statement of the seminary's goal of promoting the whole Reformed tradition, and serving both those inside and outside the Reformed community.  If the petition wants us to study Pete Enns' book, why again does it not want us to study the materials produced by the Vision Forum?  Likewise, why not allow discussion and critique of both, in the right forum?  Like Paul, the Reformers didn't burn books, they read them, then wrote a response, so that "by the open statement of the truth we would commend ourselves to everyone's conscience in the sight of God." (2 Cor. 4:2)
Last Updated on Thursday, 07 August 2008 15:55
News -
Theology
Written by Tim Black
Thursday, 03 January 2008 08:50
A fellow member of the OPC's unofficial email discussion group wrote,
I like Augustine better: Personally I have always thought the church was founded on the deity of Christ or Christ alone if you prefer and not on Peter or as you suggest here all of the apostles. I fear we are all in deep trouble if it is founded on men, apostles or otherwise.... Only Christ shall stand and the gates of hell not prevail.



Another member replied,
The only difficulty I see with what you say is what Paul says in Ephes. 2:19-21 (ESV)
The original poster replied,
B

ut does not the Bible say that the foundation laid by the apostles is Christ? And on this foundation alone they and we are to build?
I respond:
The contexts are different. Eph. 2:20 is speaking about which people/officers form the foundation of the leadership and membership of the NT church. 1 Cor. 3:11 is speaking about what doctrine forms the foundation upon which all other member-edifying teaching and exhortation must build. The two foundations are not of the same kind. Notice that Paul says in 1 Cor. 3:10-11 that Paul "laid a foundation," "which is Jesus Christ." Paul could not be the originator of Christ's Person or divine nature! So the foundation Paul laid was Paul's teaching about Christ.
Last Updated on Monday, 28 January 2008 19:23
Read more...
<< Start < Prev 1 2 3

4

5 Next > End >>


Page 4 of 5