Life
News -
Life
Written by Tim Black
Friday, 09 August 2013 15:38
I am opposed to multilevel marketing as a business practice, for the reasons given by Bill Ackman here: http://en.wikipedia.org/wiki/Herbalife#Criticism, in summary: "the majority of distributors lose money, that the chance of making the testimonial-implied headline income is approximately one in five thousand, and that the company materially overstates its distributors' retail sales and understates their recruiting rewards....Herbalife distributors 'primarily obtain their monetary benefits from recruitment rather than the sale of goods and services to consumers.'"
If you still want to get into multilevel marketing, I strongly recommend you treat it like a real business--make a business plan, which includes a budget containing fact-based estimates of how much time and money you will have to invest into each part of the business, and of the business's resulting income, and your final profit (the difference between those last two numbers), and a timeline-style plan for what stages the business will move through (research, planning, purchasing, networking, advertising, hiring, growing, when to fire, when to sell, when to quit). Read what the critics say, find out what pitfalls to avoid. Track your progress relative to someone who has succeeded in the business to see whether you are following the same trajectory, and if you are not progressing well, decide how much failure is acceptable (how much time or money are you willing to lose before you should quit?)
News -
Life
Written by Tim Black
Friday, 09 August 2013 13:40
Here are some brief comparisons of Dave Ramsey & Crown Financial Ministries:

http://voices.yahoo.com/dave-ramseys-baby-steps-versus-crown-financial-ministries-340031.html?cat=46
"...both the 'Baby Steps' and the 'Money Map', both have the same goal in mind, but both go about it in different ways. 'Baby Steps' is more structured, and gives you a detailed plan and tools on how to go about your goals in the quickest way possible. In the 'Money Map', it seems to be more up to you on how you want to go about it. If you need more structure, and would like to see results quickly, I would opt for the 'Baby Steps'. I did enjoy the fact that the 'Money Map' was more God centered, although Dave Ramsey also mentions God quite a bit. Also, you do have the safety net of a bigger savings than you do with the 'Baby Steps'."

http://personalfinancejourney.com/2010/03/comparing-crown-ministries-financial-peace/
Both are more similar than different. Crown's mission & methods sound more comprehensive and biblical; Dave Ramsey more focused. Both involve significant costs - FPU is $93/family for a lifetime membership, $299 for a church leadership kit. CFM is $25 for 4-week intro kit, $2.50 per member handbook, $125 (single) or $150 (couple) for Crown Money Map course. Both have nearly the same 7-step plan. "Crown's Money Map design allows you to start multiple initiatives at once (example save for retirement and college in the same steps)." Crown mostly targets church members; FPU targets both members and non-members.

http://www.onemoneydesign.com/dave-ramseys-baby-steps-crown-money-map-review
Ramsey gives saving for retirement priority over saving for other major future expenses, like a home, car and children's education.

http://flowerpatchfarmgirl.blogspot.com/2012/05/trouble-with-dave-ramsey.html
A somewhat unclear, but significant warning: don't store up treasures on earth; money is meant (not only to be saved, but finally) to be spent for the Lord.

I'm pleasantly surprised that it appears Becky and I are pretty much following the 7 steps, though we have not yet finished them; they seem to be an outline of the financial progress you should try to make by the time you retire, if not earlier (maybe that is only because I'm interpreting them through lower-middle-class eyes.) It could be that we are not as aggressive about getting out of debt as we should be.

Do you know any reason why our church should NOT use Dave Ramsey's materials?

News -
Life
Written by Tim Black
Friday, 11 November 2011 10:43
For those who have time to read an autobiography, or an hour to listen to a recording, you may find it interesting to learn about my grandfather at http://mahaffynet.net/?page_id=53. His autobiography covers his years as a country boy in Kansas, a B-25 pilot in WWII, and college & seminary student, then a pilot and pastor then regional home home missionary at large in the OPC. The hour long recording is of him telling the story of how he was shot down in WWII, told in a way similar to how he has told it many times as a means of presenting the gospel.
I have found his accounts interesting for a number of reasons. He is a very careful man, so I was surprised at the risks he took when flying, though they were few in number, and his adventurous spirit throughout. He is a very godly man, so I cherish his personal, and deeply Reformed and presbyterian, testimony which he makes explicit at points throughout. He makes a number of sober assessments of his actions in hindsight which are useful for younger men like myself to consider. And his understated humor is a delight.
Grandpa's pastor John Mahaffy writes,
On this Veterans' Day I am particularly thankful for the service of a man who was my pastor when I was a teenager, the Rev. Glenn T. Black. He has given sacrificially to serve both his country and his Lord, without confusing the two or mixing priorities. Many of you have read his "Four Full Years" or listened to his "My Longest Day." If not, you might find it appropriate today to click here and do so. He would be the first to tell you that he was only one of many. However, it is important that we do not forget him or others.
Last Updated on Friday, 10 August 2012 18:52
News -
Life
Written by Tim Black
Wednesday, 06 August 2008 01:50
Today was the first of our marathon driving days. We planned these days to be 8-9 hours of driving, but because we can't do the speed limit these days are going to take longer than that.  We covered a lot of the Southwest today--from the middle of Arizona to nearly the end of New Mexico.
Public works got some culture.  This was in or near the Navajo Nation.
Petrified Forest National Park.
A sign in the visitor center reads, "The bubonic plague is real." A more detailed flier in the Mather Campground at the Grand Canyon explained that you can get it from the animals in the park, especially the rodents. I told a ranger that was very surprising, and she said, "Don't play with the animals." Ok, you convinced me. She said they've had some occurrences in the past but not recently. The threat of death has enlivened this trip throughout; even the truck rental agreement and usage guidelines state plainly and repeatedly that a consequence of not following the instructions is "serious injury or death."  Though people may live in fear of death all their lives, thanks be to God He has made a way to no longer fear it through the death of Christ as our substitute.
We're house hunting at the Puerco Pueblo.
At least it has a foundation.
Actually, the guy behind the counter in the visitor center is from Kansas and said some small towns there--including Coffeyville, which is 20 miles from Caney--are giving away land for free to attract new residents.
Indian petroglyphs. The interpretive signs show adult men chipping out the drawings, but do you really think kids didn't have a hand in it? I got my kicks out of the man-eating bird--it's straight out of Calvin and Hobbes. A great addition to our nation's artistic memory. Interesting how graffiti became worth saving.
Can you find the petroglyphs?
Yes, it's rock. And there's a lot of it around the park, but they say tons of it are stolen each year. They also say it weighs 200 lbs per cubic foot!
Do NOT take any. Instead, buy it legally outside the park, from people who picked it up outside the park. I wondered how thoroughly they'd want to search the back of our truck, but they just waved us through at the vehicle inspection point at the park exit.
There are a LOT more chunks of petrified logs lying on the floor of this valley--they are most of the brown dots you can see.

The Painted Desert in the Petrified Forest.
The Teepees in the Petrified Forest.
Gallup, New Mexico.

Continental divide.
We had hoped to make it to Palo Duro Canyon south of Amarillo tonight, but it's time for bed so we stayed in a hotel in Tucumcari, NM.
Last Updated on Thursday, 14 August 2008 08:27
News -
Life
Written by Tim Black
Monday, 04 August 2008 06:20
This morning we saw more of the Grand Canyon by driving east along the rim and stopping at the viewpoints.
We found it!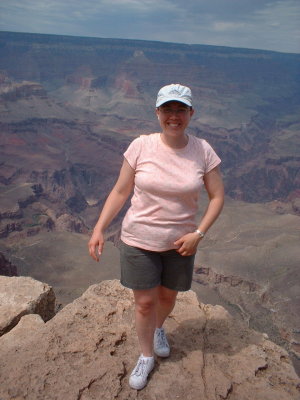 Now let me get away from the edge. The edge is truly thrilling.
Tim's shaking in his tennis shoes.  If you're hankering for a terrifyingly sheer cliff you can find several at the Grand Canyon. They said you should keep your pets on a leash and children within sight because of the mountain lions, but like the warnings at Crater Lake, I'm sure the drop is another sufficient reason.
It's even deeper through the binoculars.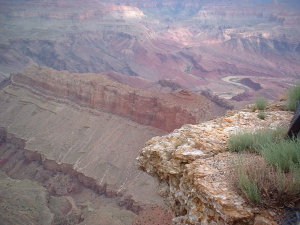 At Grandview Point there's a sign describing how 4 years ago a girl who ran the Boston Marathon in around 3 hours (in other words, in far better shape than you are) hiked down the trail there without adequate supplies and died as a result.  I like signs that communicate so effectively.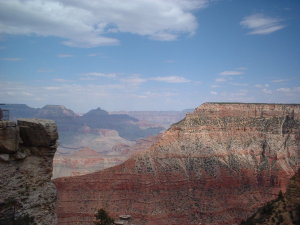 It's an amazing sight.
Is it a condor or a raven?  You tell me.
A dear smiles for the camera.
We outran a thunderstorm that drenched us briefly around Flagstaff and followed us the rest of the day.
We continued on to Walnut Canyon but discovered the trail to the cliff dwellings is closed due to a landslide. They are repairing it, possibly using the group of young people we saw with the words "Conservation Experience" on their t-shirts. What makes me think that is a display in the visitor center that says in the early days of our national parks much of the construction work was done by Franklin D. Roosevelt's Civilian Conservation Corps. The Corps was only for "boys" ages 18-25 who came from families needing assistance. They were paid $30/month, could keep $5 for themselves and had to send the rest home to help their families. Now there's a productive form of welfare!
Next we visited Meteor Crater, which I'd read about as a kid and now finally get to see!
It is 4000 feet wide and 700 feet deep.
We didn't see any aliens but there was a bright green collared gecko. The biggest chunk of the meteor they've found is on display in the museum, not attached to the platform on which it rests. It's solid iron and nickel. It doesn't look too large for two strong men to lift, but the tour guide said if you can pick it up he won't attempt to stop you from carrying it out the door. They believe the meteorite was 150 feet in diameter. Interestingly, though meteorite fragments have been found outside and inside the crater, and Daniel Barringer spent the last 26 years of his life searching for it, the mother lode of this giant iron deposit has never been found. They speculate most of it melted and vaporized.
We found the Wigwam Motel that inspired the traffic cone motel in Cars.  Want to sleep in a wigwam?
Next we went a long ways on a little road, but a well-maintained little road, to stay in a TrendWest/WorldMark/Wyndham timeshare at Bison Ranch in Overgaard, AZ.
These were very nice accommodations, for less than the cost of a hotel.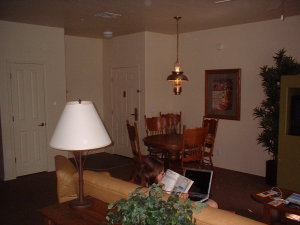 We got the last minute deal rate by taking up an offer by Dean Scott, owner/founder of Sovereign Grace Singles (www.sovereigngracesingles.com), whose site I maintain, to use part of the time share he bought into for members of the website to use for singles retreats. They'd better use it because this was a great place to stay!
Dude, it's a ranch. They have bison, horses to ride, riding lessons, several stores and a restaurant. The rooms are stocked with all the kitchen/dining utensils you need and you don't have to wash them when you're done!
After unpacking we took a dip in the pool and hot tub.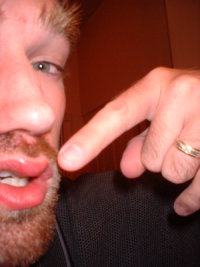 Ow. The pool is only 4 feet deep, according to my swollen lip.
Last Updated on Tuesday, 12 August 2008 20:33
<<

Start

<

Prev

1

2 Next > End >>


Page 1 of 2