News -
Life
Written by Tim Black
Monday, 04 August 2008 06:20
This morning we saw more of the Grand Canyon by driving east along the rim and stopping at the viewpoints.
We found it!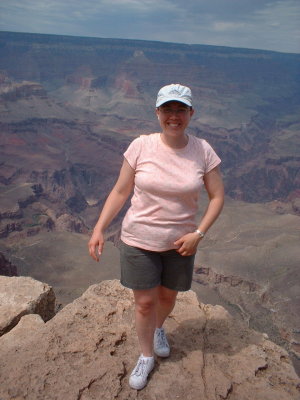 Now let me get away from the edge. The edge is truly thrilling.
Tim's shaking in his tennis shoes.  If you're hankering for a terrifyingly sheer cliff you can find several at the Grand Canyon. They said you should keep your pets on a leash and children within sight because of the mountain lions, but like the warnings at Crater Lake, I'm sure the drop is another sufficient reason.
It's even deeper through the binoculars.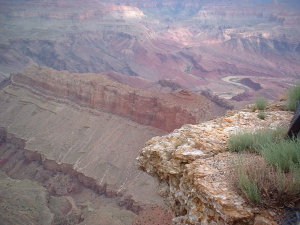 At Grandview Point there's a sign describing how 4 years ago a girl who ran the Boston Marathon in around 3 hours (in other words, in far better shape than you are) hiked down the trail there without adequate supplies and died as a result.  I like signs that communicate so effectively.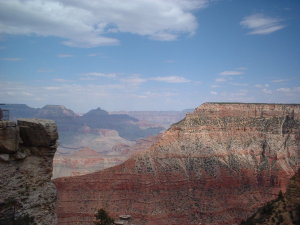 It's an amazing sight.
Is it a condor or a raven?  You tell me.
A dear smiles for the camera.
We outran a thunderstorm that drenched us briefly around Flagstaff and followed us the rest of the day.
We continued on to Walnut Canyon but discovered the trail to the cliff dwellings is closed due to a landslide. They are repairing it, possibly using the group of young people we saw with the words "Conservation Experience" on their t-shirts. What makes me think that is a display in the visitor center that says in the early days of our national parks much of the construction work was done by Franklin D. Roosevelt's Civilian Conservation Corps. The Corps was only for "boys" ages 18-25 who came from families needing assistance. They were paid $30/month, could keep $5 for themselves and had to send the rest home to help their families. Now there's a productive form of welfare!
Next we visited Meteor Crater, which I'd read about as a kid and now finally get to see!
It is 4000 feet wide and 700 feet deep.
We didn't see any aliens but there was a bright green collared gecko. The biggest chunk of the meteor they've found is on display in the museum, not attached to the platform on which it rests. It's solid iron and nickel. It doesn't look too large for two strong men to lift, but the tour guide said if you can pick it up he won't attempt to stop you from carrying it out the door. They believe the meteorite was 150 feet in diameter. Interestingly, though meteorite fragments have been found outside and inside the crater, and Daniel Barringer spent the last 26 years of his life searching for it, the mother lode of this giant iron deposit has never been found. They speculate most of it melted and vaporized.
We found the Wigwam Motel that inspired the traffic cone motel in Cars.  Want to sleep in a wigwam?
Next we went a long ways on a little road, but a well-maintained little road, to stay in a TrendWest/WorldMark/Wyndham timeshare at Bison Ranch in Overgaard, AZ.
These were very nice accommodations, for less than the cost of a hotel.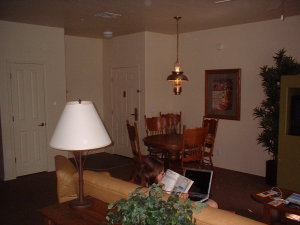 We got the last minute deal rate by taking up an offer by Dean Scott, owner/founder of Sovereign Grace Singles (www.sovereigngracesingles.com), whose site I maintain, to use part of the time share he bought into for members of the website to use for singles retreats. They'd better use it because this was a great place to stay!
Dude, it's a ranch. They have bison, horses to ride, riding lessons, several stores and a restaurant. The rooms are stocked with all the kitchen/dining utensils you need and you don't have to wash them when you're done!
After unpacking we took a dip in the pool and hot tub.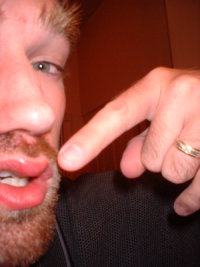 Ow. The pool is only 4 feet deep, according to my swollen lip.
Last Updated on Tuesday, 12 August 2008 20:33