News -
Life
Written by Tim Black
Saturday, 02 August 2008 02:00
Today was pretty hot! Maybe over 100. The Mojave Desert lived up to its reputation in that regard. But it wasn't unbearable, and to my amazement, it wasn't all that frightening. It looks a lot like where I grew up in Eastern Washington. I guess I was hoping for giant cacti, sand dunes, and palm trees. There were some rusty trucks (like Mater in Cars) and strange desert plants (yucca and Joshua trees), though, which was good.
We visited the ghost town of Calico, CA, which is in the Mojave Desert.
Before looking at the tourist brochure we found at the hotel, I had imagined the ghost town would be a set of utterly abandoned rickety buildings, with no tourists besides ourselves.
Armed and dangerous.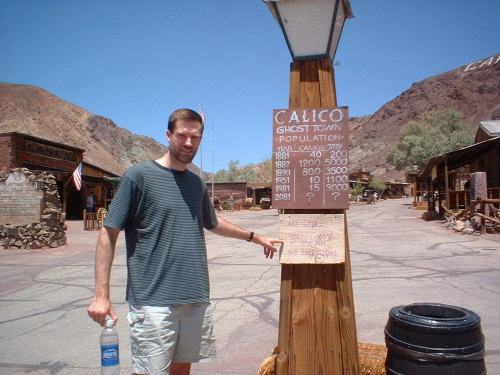 "All guns must be checked at the jail.  No exceptions."
After seeing the brochure, I learned that you have to pay to enter Calico, and so I imagined that perhaps it would have a gate that says "Closed except during months x through y." In reality Calico is a partially restored silver mining town that flourished in the late 1800's and died in the early 1900's, with 31 points of interest many of which require you to pay extra to see, and most of which are buildings--houses, a museum, jail, mineshafts, and a doctor/dentist/barber/bath shop--all in one! They'll make sure you clean up nice. The dentist in Calico was so resourceful he invented the easily portable foot-pedal powered dental drill! The museum included a simple but profound warning that "Abandoned mineshafts are killers." I almost paid to see whatever it is in the "House of Mystery" that is "amazing, amusing, and confusing," but after being slightly put off by noticing that the initial room open to the public wasn't full of mystery but rather mist to take the edge off the heat--an amusing pun but not very amazing--avoided the tourist trap for the more substantive thrill of a can of soup already warmed by our car. So there were plenty of souls in Calico, but we weren't able to see any ghosts.
Today we saw more of Route 66 than we wanted. A key piece of background info is that our car is on a tow dolly that hinges both at the ball hitch and between the car's front wheels, so we can't back up without unhitching the trailer, unloading the car, turning both vehicles around and turning the trailer by hand. It's not too hard but takes a little time and gets you dirty. We saw a sign for "Historic Route 66" and so got off the highway to drive what turned out to be a very short section of Route 66. It led through a small town, and at the end of the town we decided to skip the onramp to the highway and explore a bit further.
Cruisin' on Route 66
It's the genuine article!
Little did we know that the next onramp was 5 or more miles away, the shoulders were never wide enough to turn around, and the pavement on that section was so rough we weren't comfortable going more than 20 miles an hour.
It's rougher than it looks.  We started longing for that highway not so far away. I kept thinking about the piano and the dishes so carefully packed in the back of the truck, and I suspect the guys who produced Cars had a similar experience. I recommend you don't take your restored classic roadster on this section of Route 66!
Similarly, we saw a sign for a much needed rest area and discovered that it led to Essex, AZ, 6 miles from the highway. Once we got to Essex, we took a shortcut back to the highway on what turned out to be another section of Route 66. This section was maintained but I think I've got my fill for now.
Um...just about right on the Arizona State Line.
Welcome to Arizona!
Not much moss on this road.
Close to Needles.
Needle Mountain?
We arrived at the Grand Canyon after 11 PM due to our detours and were a little concerned that maybe the gate would be closed and we'd have to camp elsewhere.  But as it turns out, latecomers get in free!  Once you're in you don't have to pay.  Well, that was kind of them.
Last Updated on Tuesday, 12 August 2008 20:27