Life
News -
Life
Written by Tim Black
Sunday, 03 August 2008 08:52
Today we woke up in time for breakfast and a shower, but not in time to get to the "Christian Ministry in the National Parks" service earlier than about 10 minutes late. It was informal enough that the rest of the congregants greeted us during the service and explained they were all part of one family reunion and wanted to make sure we felt welcome. We arrived during a time for prayer requests, then there was a prayer, then a time of singing, then the service was over! Looking at the bulletin, apparently the sermon had already been delivered! Apparently it was short. After the service we discovered several members of the family had been part of the OPC in Syracuse, NY in the 80's, another was a PCUSA minister who graduated from Westminster in Philly in 1965, and the man who delivered the sermon was an OT student at Princeton. It's a small world.

We walked along the rim of the Grand Canyon during the afternoon.

In the evening we listened to a sermon by Becky's grandfather Ron Jenkins from John 4 on Christ's work and ours, and got some needed rest.
Last Updated on Tuesday, 05 August 2008 08:53
News -
Life
Written by Tim Black
Saturday, 02 August 2008 02:00
Today was pretty hot! Maybe over 100. The Mojave Desert lived up to its reputation in that regard. But it wasn't unbearable, and to my amazement, it wasn't all that frightening. It looks a lot like where I grew up in Eastern Washington. I guess I was hoping for giant cacti, sand dunes, and palm trees. There were some rusty trucks (like Mater in Cars) and strange desert plants (yucca and Joshua trees), though, which was good.
We visited the ghost town of Calico, CA, which is in the Mojave Desert.
Before looking at the tourist brochure we found at the hotel, I had imagined the ghost town would be a set of utterly abandoned rickety buildings, with no tourists besides ourselves.
Armed and dangerous.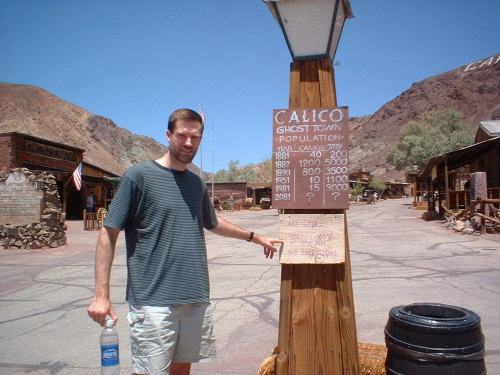 "All guns must be checked at the jail.  No exceptions."
After seeing the brochure, I learned that you have to pay to enter Calico, and so I imagined that perhaps it would have a gate that says "Closed except during months x through y." In reality Calico is a partially restored silver mining town that flourished in the late 1800's and died in the early 1900's, with 31 points of interest many of which require you to pay extra to see, and most of which are buildings--houses, a museum, jail, mineshafts, and a doctor/dentist/barber/bath shop--all in one! They'll make sure you clean up nice. The dentist in Calico was so resourceful he invented the easily portable foot-pedal powered dental drill! The museum included a simple but profound warning that "Abandoned mineshafts are killers." I almost paid to see whatever it is in the "House of Mystery" that is "amazing, amusing, and confusing," but after being slightly put off by noticing that the initial room open to the public wasn't full of mystery but rather mist to take the edge off the heat--an amusing pun but not very amazing--avoided the tourist trap for the more substantive thrill of a can of soup already warmed by our car. So there were plenty of souls in Calico, but we weren't able to see any ghosts.
Today we saw more of Route 66 than we wanted. A key piece of background info is that our car is on a tow dolly that hinges both at the ball hitch and between the car's front wheels, so we can't back up without unhitching the trailer, unloading the car, turning both vehicles around and turning the trailer by hand. It's not too hard but takes a little time and gets you dirty. We saw a sign for "Historic Route 66" and so got off the highway to drive what turned out to be a very short section of Route 66. It led through a small town, and at the end of the town we decided to skip the onramp to the highway and explore a bit further.
Cruisin' on Route 66
It's the genuine article!
Little did we know that the next onramp was 5 or more miles away, the shoulders were never wide enough to turn around, and the pavement on that section was so rough we weren't comfortable going more than 20 miles an hour.
It's rougher than it looks.  We started longing for that highway not so far away. I kept thinking about the piano and the dishes so carefully packed in the back of the truck, and I suspect the guys who produced Cars had a similar experience. I recommend you don't take your restored classic roadster on this section of Route 66!
Similarly, we saw a sign for a much needed rest area and discovered that it led to Essex, AZ, 6 miles from the highway. Once we got to Essex, we took a shortcut back to the highway on what turned out to be another section of Route 66. This section was maintained but I think I've got my fill for now.
Um...just about right on the Arizona State Line.
Welcome to Arizona!
Not much moss on this road.
Close to Needles.
Needle Mountain?
We arrived at the Grand Canyon after 11 PM due to our detours and were a little concerned that maybe the gate would be closed and we'd have to camp elsewhere.  But as it turns out, latecomers get in free!  Once you're in you don't have to pay.  Well, that was kind of them.
Last Updated on Tuesday, 12 August 2008 20:27
News -
Life
Written by Tim Black
Friday, 01 August 2008 02:00
We be geekin again. Three years ago we moved from Philadelphia to San Jose and looked like this:
Now we're moving to Caney, KS, and still look a little funny:
It all fits!  A BIG "Thank you!" goes out to all those who helped us pack the truck:  Don Jamieson, Ed Wright, Ed Warner, Tara Sturlaugson, Mr. Majchrowicz, Carlos Bressler, and James Sander.  We couldn't have done it so quickly without you!  Also, thank you Ken and Billie Sanders, Bob Ayres, and Brett Van Der Veen for so generously giving of your time to help us during our recent visit to Caney.
Here's our general route; can you guess what sights we're going to see?
Yesterday we finished packing the truck and drove from San Jose to Barstow, CA.
The EconoLodge in Barstow is cheap and look how pretty it is!
Parking is fun.
I discovered that when we go over a significant bump at speeds over 50 mph the truck rocks from side to side powerfully. Normally the rocking subsides, but sometimes it gets stronger until I slow down. It was very frightening when it first happened as we hit the highway in San Jose. I'm getting used to it. I asked a trucker about it at a rest stop and he thinks it has to do with the piano being in the very front of the truck. Might be.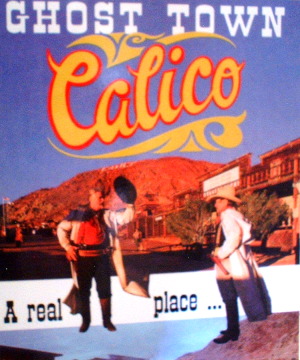 Driving with my eyes closed.
Today we're beginning to follow I-40 east, which follows the route of the old Route 66. So we're hoping to take in a ghost town and maybe the Route 66 museum here in Barstow. We're stocking up on water because we're about to cross the Mojave Desert in the hottest part of the summer. Seriously, that sounds like a lot of fun to me. Our air conditioner works.
We'll try to post more pictures at the next free wifi watering hole. Subscribe to the RSS feed if you're into that.
Last Updated on Saturday, 23 August 2008 14:30
News -
Life
Written by Tim Black
Saturday, 06 October 2007 08:19
You might enjoy hearing a bit about one of our vacations this summer. In August we enjoyed camping with Mom & Dad Black
on their property in the desert in Prineville, OR for two nights, driving to Paulina Lake (lots of fish were jumping!) & to the top of Paulina Peak (from which you can see a looong ways), canoeing on beautiful Hosmer Lake (there were lots of fish in a shallow section) and camping there for the rest of the week (there was a great view of Mt. Bachelor), picking up huge rocks made of pumice at the obsidian flow, going for a bike ride around Elk Lake, seeing hawks and osprey hunting, vultures eating (but they flew away when we stopped to look at them), and elk along the side of the road on the way home (by Davison Road near Crescent City, CA). Beforehand our OPC congregation in Eureka, CA had asked me to preach on our way home, so we had a good visit with the congregation (they asked me to teach SS at the last minute; thankfully I had a lesson and a few handouts prepared), and with the family that gave us a place to stay Saturday night. They asked me back to preach the very next Sunday since their pulpit supply coordinatorship had just changed hands and they didn't have a preacher scheduled. Safe travel the whole way, which was a blessing. Google says the trip was about 1404 miles total. Mom & Dad had an old tire blow out on their trailer on the way home, but were able to continue after installing the spare tire. So you can drool over vacationing in Oregon someday with us I've uploaded the beautiful pictures Dad took here.
Last Updated on Monday, 08 October 2007 11:26
<< Start < Prev 1

2

Next

>

End

>>


Page 2 of 2