News
Life
Written by Tim Black
Wednesday, 06 August 2008 01:50
Today was the first of our marathon driving days. We planned these days to be 8-9 hours of driving, but because we can't do the speed limit these days are going to take longer than that.  We covered a lot of the Southwest today--from the middle of Arizona to nearly the end of New Mexico.
Public works got some culture.  This was in or near the Navajo Nation.
Petrified Forest National Park.
A sign in the visitor center reads, "The bubonic plague is real." A more detailed flier in the Mather Campground at the Grand Canyon explained that you can get it from the animals in the park, especially the rodents. I told a ranger that was very surprising, and she said, "Don't play with the animals." Ok, you convinced me. She said they've had some occurrences in the past but not recently. The threat of death has enlivened this trip throughout; even the truck rental agreement and usage guidelines state plainly and repeatedly that a consequence of not following the instructions is "serious injury or death."  Though people may live in fear of death all their lives, thanks be to God He has made a way to no longer fear it through the death of Christ as our substitute.
We're house hunting at the Puerco Pueblo.
At least it has a foundation.
Actually, the guy behind the counter in the visitor center is from Kansas and said some small towns there--including Coffeyville, which is 20 miles from Caney--are giving away land for free to attract new residents.
Indian petroglyphs. The interpretive signs show adult men chipping out the drawings, but do you really think kids didn't have a hand in it? I got my kicks out of the man-eating bird--it's straight out of Calvin and Hobbes. A great addition to our nation's artistic memory. Interesting how graffiti became worth saving.
Can you find the petroglyphs?
Yes, it's rock. And there's a lot of it around the park, but they say tons of it are stolen each year. They also say it weighs 200 lbs per cubic foot!
Do NOT take any. Instead, buy it legally outside the park, from people who picked it up outside the park. I wondered how thoroughly they'd want to search the back of our truck, but they just waved us through at the vehicle inspection point at the park exit.
There are a LOT more chunks of petrified logs lying on the floor of this valley--they are most of the brown dots you can see.

The Painted Desert in the Petrified Forest.
The Teepees in the Petrified Forest.
Gallup, New Mexico.

Continental divide.
We had hoped to make it to Palo Duro Canyon south of Amarillo tonight, but it's time for bed so we stayed in a hotel in Tucumcari, NM.
Life
Written by Tim Black
Monday, 04 August 2008 06:20
This morning we saw more of the Grand Canyon by driving east along the rim and stopping at the viewpoints.
We found it!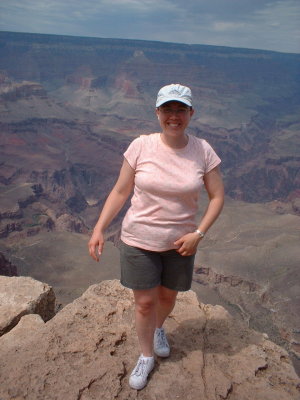 Now let me get away from the edge. The edge is truly thrilling.
Tim's shaking in his tennis shoes.  If you're hankering for a terrifyingly sheer cliff you can find several at the Grand Canyon. They said you should keep your pets on a leash and children within sight because of the mountain lions, but like the warnings at Crater Lake, I'm sure the drop is another sufficient reason.
It's even deeper through the binoculars.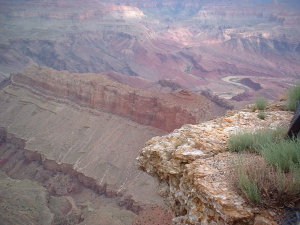 At Grandview Point there's a sign describing how 4 years ago a girl who ran the Boston Marathon in around 3 hours (in other words, in far better shape than you are) hiked down the trail there without adequate supplies and died as a result.  I like signs that communicate so effectively.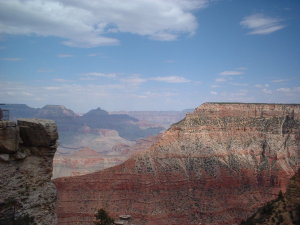 It's an amazing sight.
Is it a condor or a raven?  You tell me.
A dear smiles for the camera.
We outran a thunderstorm that drenched us briefly around Flagstaff and followed us the rest of the day.
We continued on to Walnut Canyon but discovered the trail to the cliff dwellings is closed due to a landslide. They are repairing it, possibly using the group of young people we saw with the words "Conservation Experience" on their t-shirts. What makes me think that is a display in the visitor center that says in the early days of our national parks much of the construction work was done by Franklin D. Roosevelt's Civilian Conservation Corps. The Corps was only for "boys" ages 18-25 who came from families needing assistance. They were paid $30/month, could keep $5 for themselves and had to send the rest home to help their families. Now there's a productive form of welfare!
Next we visited Meteor Crater, which I'd read about as a kid and now finally get to see!
It is 4000 feet wide and 700 feet deep.
We didn't see any aliens but there was a bright green collared gecko. The biggest chunk of the meteor they've found is on display in the museum, not attached to the platform on which it rests. It's solid iron and nickel. It doesn't look too large for two strong men to lift, but the tour guide said if you can pick it up he won't attempt to stop you from carrying it out the door. They believe the meteorite was 150 feet in diameter. Interestingly, though meteorite fragments have been found outside and inside the crater, and Daniel Barringer spent the last 26 years of his life searching for it, the mother lode of this giant iron deposit has never been found. They speculate most of it melted and vaporized.
We found the Wigwam Motel that inspired the traffic cone motel in Cars.  Want to sleep in a wigwam?
Next we went a long ways on a little road, but a well-maintained little road, to stay in a TrendWest/WorldMark/Wyndham timeshare at Bison Ranch in Overgaard, AZ.
These were very nice accommodations, for less than the cost of a hotel.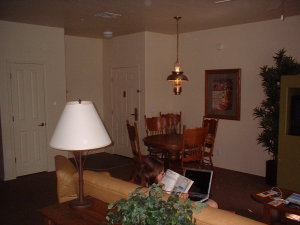 We got the last minute deal rate by taking up an offer by Dean Scott, owner/founder of Sovereign Grace Singles (www.sovereigngracesingles.com), whose site I maintain, to use part of the time share he bought into for members of the website to use for singles retreats. They'd better use it because this was a great place to stay!
Dude, it's a ranch. They have bison, horses to ride, riding lessons, several stores and a restaurant. The rooms are stocked with all the kitchen/dining utensils you need and you don't have to wash them when you're done!
After unpacking we took a dip in the pool and hot tub.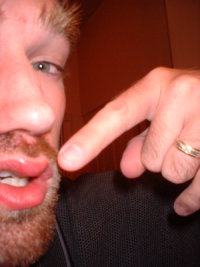 Ow. The pool is only 4 feet deep, according to my swollen lip.
Life
Written by Tim Black
Sunday, 03 August 2008 08:52
Today we woke up in time for breakfast and a shower, but not in time to get to the "Christian Ministry in the National Parks" service earlier than about 10 minutes late. It was informal enough that the rest of the congregants greeted us during the service and explained they were all part of one family reunion and wanted to make sure we felt welcome. We arrived during a time for prayer requests, then there was a prayer, then a time of singing, then the service was over! Looking at the bulletin, apparently the sermon had already been delivered! Apparently it was short. After the service we discovered several members of the family had been part of the OPC in Syracuse, NY in the 80's, another was a PCUSA minister who graduated from Westminster in Philly in 1965, and the man who delivered the sermon was an OT student at Princeton. It's a small world.

We walked along the rim of the Grand Canyon during the afternoon.

In the evening we listened to a sermon by Becky's grandfather Ron Jenkins from John 4 on Christ's work and ours, and got some needed rest.
Life
Written by Tim Black
Saturday, 02 August 2008 02:00
Today was pretty hot! Maybe over 100. The Mojave Desert lived up to its reputation in that regard. But it wasn't unbearable, and to my amazement, it wasn't all that frightening. It looks a lot like where I grew up in Eastern Washington. I guess I was hoping for giant cacti, sand dunes, and palm trees. There were some rusty trucks (like Mater in Cars) and strange desert plants (yucca and Joshua trees), though, which was good.
We visited the ghost town of Calico, CA, which is in the Mojave Desert.
Before looking at the tourist brochure we found at the hotel, I had imagined the ghost town would be a set of utterly abandoned rickety buildings, with no tourists besides ourselves.
Armed and dangerous.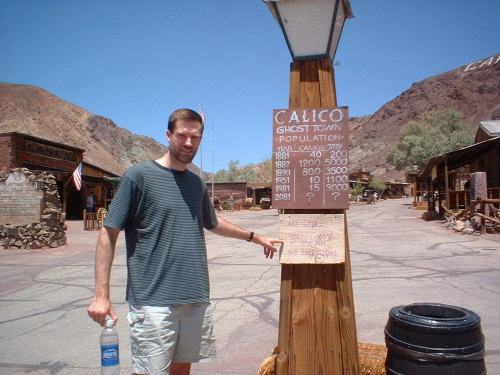 "All guns must be checked at the jail.  No exceptions."
After seeing the brochure, I learned that you have to pay to enter Calico, and so I imagined that perhaps it would have a gate that says "Closed except during months x through y." In reality Calico is a partially restored silver mining town that flourished in the late 1800's and died in the early 1900's, with 31 points of interest many of which require you to pay extra to see, and most of which are buildings--houses, a museum, jail, mineshafts, and a doctor/dentist/barber/bath shop--all in one! They'll make sure you clean up nice. The dentist in Calico was so resourceful he invented the easily portable foot-pedal powered dental drill! The museum included a simple but profound warning that "Abandoned mineshafts are killers." I almost paid to see whatever it is in the "House of Mystery" that is "amazing, amusing, and confusing," but after being slightly put off by noticing that the initial room open to the public wasn't full of mystery but rather mist to take the edge off the heat--an amusing pun but not very amazing--avoided the tourist trap for the more substantive thrill of a can of soup already warmed by our car. So there were plenty of souls in Calico, but we weren't able to see any ghosts.
Today we saw more of Route 66 than we wanted. A key piece of background info is that our car is on a tow dolly that hinges both at the ball hitch and between the car's front wheels, so we can't back up without unhitching the trailer, unloading the car, turning both vehicles around and turning the trailer by hand. It's not too hard but takes a little time and gets you dirty. We saw a sign for "Historic Route 66" and so got off the highway to drive what turned out to be a very short section of Route 66. It led through a small town, and at the end of the town we decided to skip the onramp to the highway and explore a bit further.
Cruisin' on Route 66
It's the genuine article!
Little did we know that the next onramp was 5 or more miles away, the shoulders were never wide enough to turn around, and the pavement on that section was so rough we weren't comfortable going more than 20 miles an hour.
It's rougher than it looks.  We started longing for that highway not so far away. I kept thinking about the piano and the dishes so carefully packed in the back of the truck, and I suspect the guys who produced Cars had a similar experience. I recommend you don't take your restored classic roadster on this section of Route 66!
Similarly, we saw a sign for a much needed rest area and discovered that it led to Essex, AZ, 6 miles from the highway. Once we got to Essex, we took a shortcut back to the highway on what turned out to be another section of Route 66. This section was maintained but I think I've got my fill for now.
Um...just about right on the Arizona State Line.
Welcome to Arizona!
Not much moss on this road.
Close to Needles.
Needle Mountain?
We arrived at the Grand Canyon after 11 PM due to our detours and were a little concerned that maybe the gate would be closed and we'd have to camp elsewhere.  But as it turns out, latecomers get in free!  Once you're in you don't have to pay.  Well, that was kind of them.
Life
Written by Tim Black
Friday, 01 August 2008 02:00
We be geekin again. Three years ago we moved from Philadelphia to San Jose and looked like this:
Now we're moving to Caney, KS, and still look a little funny:
It all fits!  A BIG "Thank you!" goes out to all those who helped us pack the truck:  Don Jamieson, Ed Wright, Ed Warner, Tara Sturlaugson, Mr. Majchrowicz, Carlos Bressler, and James Sander.  We couldn't have done it so quickly without you!  Also, thank you Ken and Billie Sanders, Bob Ayres, and Brett Van Der Veen for so generously giving of your time to help us during our recent visit to Caney.
Here's our general route; can you guess what sights we're going to see?
Yesterday we finished packing the truck and drove from San Jose to Barstow, CA.
The EconoLodge in Barstow is cheap and look how pretty it is!
Parking is fun.
I discovered that when we go over a significant bump at speeds over 50 mph the truck rocks from side to side powerfully. Normally the rocking subsides, but sometimes it gets stronger until I slow down. It was very frightening when it first happened as we hit the highway in San Jose. I'm getting used to it. I asked a trucker about it at a rest stop and he thinks it has to do with the piano being in the very front of the truck. Might be.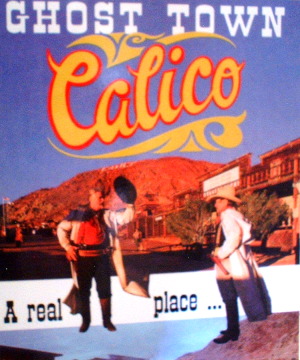 Driving with my eyes closed.
Today we're beginning to follow I-40 east, which follows the route of the old Route 66. So we're hoping to take in a ghost town and maybe the Route 66 museum here in Barstow. We're stocking up on water because we're about to cross the Mojave Desert in the hottest part of the summer. Seriously, that sounds like a lot of fun to me. Our air conditioner works.
We'll try to post more pictures at the next free wifi watering hole. Subscribe to the RSS feed if you're into that.
<< Start < Prev

11

12 13 14 15 16 17 18 Next > End >>


Page 11 of 18