News
News -
Sermons
Written by Tim Black
Sunday, 18 January 2009 17:09
Introduction

Recently a team of Palestinian and Israeli stand-up comedians failed miserably at entertaining people with jokes about the Middle East. One joke hit the funny bone, though: Lots of western franchises have done well in the Middle East—Starbucks, McDonalds, and so on—but can you guess which chain of stores didn't? Target! No one wants a store with a big red bull's eye on the front!

The Devil loves a shining mark. Who are the biggest targets he's taken aim at throughout history? No doubt the biggest ones were Adam and Christ. And because our passage is set in the wilderness, we should remember Israel and the Church as well. Adam began life with God in the Garden, and Satan took him down. Israel began life with God in the Wilderness, and Satan took Israel down. Now the Messiah begins His public ministry. Who will win? Who will be the Ruler of the world? The Truth or the Deceiver? And which spirit is stronger? The Spirit who is Holy or the spirit who is evil?

In today's passage we have the assurance that Satan's attempt to sabotage our redemption truly failed. You can be sure that Jesus Christ has defeated Satan's attacks on Himself, and He will be victorious over Satan's attacks on you. Christ conquers temptation. The world, the flesh, and the Devil are no match for Jesus Christ.

Outline: Satan sought to lead Christ to sin against God by presenting Christ with three temptations. Each follows the same pattern: first, Jesus' situation, second, Satan's temptation, and third, Jesus' answer.

In each temptation Satan's goal was for Jesus to sin against God and so fail forever to be the atoning sacrifice for our sins. He aimed for Christ "1. To despair of his Father's goodness" in the first temptation, "2. To presume upon his Father's power" in the second, and in the third, "3. To alienate his Father's honour, by giving it to Satan."1 The first two temptations seem innocent, the last one desirable. Just like the forbidden fruit, the temptations seemed "good for food, and desirable to make one wise." To be faithful in the first two, Christ needed wisdom and careful discernment; in the last one, He needed power.

Body

First Temptation: vv. 1-4

Text. In the first temptation Satan sought to bring Christ to despair of His Father's goodness. Scripture tells us in vv. 1-4,

1 Then Jesus was led up by the Spirit into the wilderness to be tempted by the devil.

2 And after fasting forty days and forty nights, he was hungry.

3 And the tempter came and said to him, "If you are the Son of God, command these stones to become loaves of bread."

4 But he answered, "It is written, 'Man shall not live by bread alone, but by every word that comes from the mouth of God.'"

Introduction

"Then" Matthew introduces the account by showing its connection with Christ's inauguration by using the word "then"—Christ was tempted immediately after His inauguration. Why didn't He preach first, or heal first? Because Christ came to battle and defeat Satan, otherwise His preaching and healing would save no one from their sins.

He was "Led up by the Spirit." We pray, "Lead us not into temptation." Some people believe God doesn't lead us into temptation, but in doing so they deny God's sovereignty. Notice that here Jesus was "led up by the Spirit...to be tempted." Undeniably, God the Spirit led Jesus into temptation.

"Tempted by the devil." But it was not the Spirit, it was not God, who tempted Jesus. He was "tempted by the devil," who is clearly described in v. 3 as "the tempter." God does not tempt us, and God cannot be tempted. A trial is a temptation; they are the same word in the Greek. God's goal in them is for you to prove faithful and obedient to Him, but Satan's goal is for you to sin against God. So God is not guilty for our temptations. God is sovereign, and we are responsible.

Situation: Hunger

"Wilderness" Matthew tells us the situation in which the first temptation came. The Spirit led Jesus into the wilderness, where He fasted for 40 days. This is intended to remind you that Jesus represents all of God's people—He represents you before God the Father. Do you remember that the wilderness was where God tested His people for 40 years after the Exodus? Israel was God's son, and God humbled, tested, and disciplined His son in the desert.

Jesus "Fasted."

Jesus went into the wilderness to commune more closely with God, but also so the Devil would have a full opportunity to tempt Jesus. Christ gave the Devil the advantage of the desert's solitude, sun and wind, and his own body's hunger. "Satan, bring your worst, and if I beat you here, I'll beat you anywhere."

Jesus fasted "40 days." You say "That's impossible! Five days without food and He'd be dead!" But don't you remember that when God fed Elijah he journeyed 40 days on that one meal? You say "That's impossible!" But don't you remember that God fed His people for 40 years in the desert? Jesus' 40 days of fasting were a miracle; He was sustained by God's power, but His hunger afterward was natural human hunger. Man fell by eating the forbidden fruit, so it was appropriate that Jesus would be tempted with hunger.

Temptation. In v. 3 we learn of the temptation.

Satan is the "tempter." Temptations are his specialty. Satan's words "If you are the Son of God" are like his words in the Garden, "Did God really say?" Jesus relived our father Adam's temptation. Jesus was the last Adam.

Now if Jesus stood in Adam's place, and in Israel's place, and in our place as our Covenant Head, He defeated Satan in a definitive way which we fallen sinners can never do. That is a key difference between Christ's temptations and ours. But I've heard sermons on this passage which said Christ's obedience here does not teach us how to resist temptation. To that idea, I say "Hogwash!" Scripture teaches in Heb. 2:18 that "because he himself has suffered when tempted, he is able to help those who are being tempted." Will Jesus' help be of a different nature than was His obedience under God's law in your place? No, His help is to help you do what He did. He is our forerunner, and we follow Him. Heb. 4:15 tells us, "we do not have a high priest who is unable to sympathize with our weaknesses, but one who in every respect has been tempted as we are, yet without sin." "One who in every respect has been tempted as we are" means that though there are differences between Christ's temptation and ours where His went beyond ours, nevertheless His temptations were like ours "in every respect" that is common to man. Therefore the "help" Christ gives must be like His obedience as a man "in every respect," or it is no "help" at all! In this vein, Calvin says "as long as Christ remains outside of us, and we are separated from Him, all that he has suffered and done for the salvation of the human race remains useless and of no value for us."2 But now the Spirit applies Christ's obedience by making us obedient, and He uses this passage to show us the way.

Nature of the temptation. "If you are the Son of God, command these stones to become loaves of bread." Satan recognizes that Jesus is God's Son, but challenges Him to prove it in a sinful way.

Food – natural desires. Notice that Satan is subtle. He joins the first temptation to the situation Christ is already in. Christ is hungry, so he needs food. What could be wrong with eating bread? And I ask you, are you hungry? Is there something you want? Ask yourself this—do I want it for God's glory, or do I want it at the expense of God's glory? Am I willing to get it through an unlawful means, or am I committed to get it only through the means God approves?

Unlawful means. Satan is tempting Jesus to make food for Himself, when God has already provided for Jesus for 40 days. How did God provide for those 40 days? We don't know. Does that matter? Agur says in Prov. 30:8-9, "give me neither poverty nor riches; feed me with the food that is needful for me, lest I be full and deny you and say, 'Who is the LORD?' or lest I be poor and steal and profane the name of my God." Poverty is a great source of temptation. We can think that necessity has no law. That we can provide for ourselves in whatever way we see fit, even by stealing. But stealing is a means God forbids. God didn't give Christ permission to do miracles to feed Himself. To do so would have been to break God's law. To get something good by unlawful means.

Satan aims for Jesus to despair of God's Fatherly care, God's providence, God's means of providing food and all that Jesus needs, and to believe He owes Satan an answer, as if Satan has authority and is worthy of respect.

Answer

Jesus does give Satan an answer, not to please Satan, but to defeat him. "It is written, 'Man shall not live by bread alone, but by every word that comes from the mouth of God.'" Jesus quotes Deuteronomy 8, which we read earlier in the service. This was the same temptation God's people faced when God fed them manna in the desert. He gave it to them when they said "it would have been better for us to serve the Egyptians than to die in the wilderness." (Ex. 14:11-12) "Oh that we had meat to eat!" (Num. 11:4-6)

Psalm 78:18-20

18 They tested God in their heart by demanding the food they craved.

19 They spoke against God, saying, "Can God spread a table in the wilderness?

20 He struck the rock so that water gushed out and streams overflowed. Can he also give bread or provide meat for his people?"

He can! Even when you don't know by what means He will provide, "the Lord will provide." (Gen. 22:14) God said "Let my people go, that they may hold a feast to me in the wilderness." (Ex. 5:1) Will He not bring it to pass? You know how to answer this temptation if you are willing to say with Job, "Though he slay me, I will hope in him." (Job 13:15) Though God starve me, though He appear to be my enemy, I will serve Him as my Friend.

When you are tempted to sin, believe God's word, and trust His providence.

Second Temptation: vv. 5- 7

Text. Defeated on his first try, Satan tries again.

5 Then the devil took him to the holy city and set him on the pinnacle of the temple

6 and said to him, "If you are the Son of God, throw yourself down, for it is written, 'He will command his angels concerning you,' and 'On their hands they will bear you up, lest you strike your foot against a stone.'"

7 Jesus said to him, "Again it is written, 'You shall not put the Lord your God to the test.'"

Situation: Pinnacle of Temple

Pinnacle. Note again that Jesus let Satan take Him to the top of the temple. He let Satan try his best, and do his worst. This was a place in Jerusalem where Jesus could perform a miracle to be seen by all, and thereby declare His power and Sonship to all men.

This was the "Holy city." Jerusalem. You cannot escape Satan's temptations in the wilderness, nor can you escape them in the holiest of earthly cities. But there is a Jerusalem above into which no unclean thing will enter, and even now you have access into the Holy of Holies, God's presence, which is the source of all power over temptation.

Temptation

"Throw yourself down."

The temptation itself would have been a challenge of God the Father. It's plain in the first temptation that Christ trusts God's provision, so why not presume upon God now to keep Christ safe? The Devil first tempts to despair, then to presumption. "You trust God to feed you when there's no food? Then trust God to catch you when you don't see any angels! Prove to the world that God protects you!"

Now what is wrong with doing this? Satan is not encouraging trust in God's ordinary protection as we go about our ordinary ways, but rather Satan urges a special test of God's protection to prove it is there.

"For it is written." Notice that Satan knows scripture, maybe even better than you do. But he doesn't believe it. He doesn't love it. He doesn't obey it.

Answer

Jesus replies by quoting Deuteronomy again. Satan says, "Test God." But God says, "You shall not put the Lord your God to the test." Pay close attention to the difference between the passage Satan quoted and the passage Jesus quoted. Satan quoted God's promise, but Christ quotes God's command. Which one tells you what to do? God's command. You may make inferences from God's promises, but never in a way that contradicts God's commands. Christ shows that Satan misuses, that Satan misapplies, God's promise, by urging that Christ disobey God's command. Don't presume God's promises apply to you when you're not obeying God's commands.

Our sins of presumption. It's fairly obvious how we can be tempted in a way like Jesus' first temptation—we can be greedy for food, be tempted to steal, despair that we don't have enough and God won't provide. But how are we tempted like this second temptation? It was a temptation to the sin of presumption. I think our most common sins of presumption are along these lines: "God will forgive me for this sin." "I know it's wrong, but it's not that bad." We excuse our sin, thinking God's goodness excuses us from obeying God's commands. But Paul warns you, "Shall we go on sinning that grace may increase? May it never be! How can we who died to sin still live in it?" (Rom. 5:1-2)

Third Temptation: vv. 8-11

Text. In the last temptation, Satan throws off all subtlety.

8 Again, the devil took him to a very high mountain and showed him all the kingdoms of the world and their glory.

9 And he said to him, "All these I will give you, if you will fall down and worship me."

10 Then Jesus said to him, "Be gone, Satan! For it is written, 'You shall worship the Lord your God and him only shall you serve.'"

11 Then the devil left him, and behold, angels came and were ministering to him.

Situation: Mountaintop

The imagery of the situation is from Deuteronomy. Mountaintops are the "high places" of idolatry, so were the trademarks of worldly kingdoms.

Temptation: Riches & Idolatry

And so Satan tempts Jesus to trade the world's false worship for the world's wealth and power.

Satan advocates blatant idolatry; Satanism. Satan saves the worst temptation for last.

Now why would Jesus find this temptation attractive? Because He is the King; He is the King of kings; all the cattle on a thousand hills belong to Him, and yet when "He came to His own, His own received Him not." "He was despised and rejected by men." "We esteemed Him not." (Is. 53:3) But Satan, who for a time has been given power and even worship in this world, offers a shortcut, the fast lane, for Christ to rule the world. "Isn't that why you came here, Jesus?" "All these I will give you." "Everyone will bow their knee to you." Do you not see that it took a greater strength of will than you have to resist this temptation?

But it was not a fair trade. 1 John 2:16 tells us "For all that is in the world -- the lust of the flesh, the lust of the eyes, and the pride of life -- is not of the Father but is of the world." Christ would have received evil worship, and evil kingdoms, as His own. But Christ's kingdom conquers evil!

Condition.

And the condition Satan would have Jesus meet is truly evil. Satan says, "Fall down and worship me." Here is Satan's real intent. When you greedily desire that food, that pleasure, that possession, which does not rightfully belong to you, which would serve sin and self rather than God, the real result is that you worship Satan. When you say "God will forgive this sin, so I'll keep doing it," you worship Satan.

But remember that this truly was a temptation for Jesus. He was tempted, even in this third temptation. The best of saints will be tempted to the worst of sins. This is their affliction. Yet if they do not foster the desire of, approve of, or consent to the sin, then they do not actually sin, for remember, "Christ was tempted to worship Satan."3 "He was tempted in every respect as we are, yet without sin."

Answer

You have served Satan, but there is one, and only one, who can rescue you from the power of sin, the flesh, and the Devil. The one Savior is Jesus Christ. Paul says, "I see in my members another law waging war against the law of my mind and making me captive to the law of sin that dwells in my members. 24 Wretched man that I am! Who will deliver me from this body of death? 25 Thanks be to God through Jesus Christ our Lord!" (Rom. 8:23-25)

Christ rejected Satan's temptation "with abhorrence and detestation."4 He said "Be gone, Satan!" Jesus didn't give in, and the battle is over! Jesus again quotes Deuteronomy, "You shall worship the Lord your God and him only shall you serve." "If...your friend...entices you secretly, saying 'Let us go and serve other gods,'" you must not listen to him. (Deut. 13:6-8) Instead, say with Jesus, "God alone deserves all worship and glory and I will not give it to any other!"

The great evil of some temptations is easy to recognize, but in that evil Satan can also place a great temptation. You know which temptations are greater than you. The ones you fall into time and again. Jesus still calls you to repent of those sins, too. And it's there that you need this Jesus who took Satan's worst, and beat him! He conquered Satan, and He lives in you. We have no excuse for our sin. But we also have every encouragement to repent of those we can't defeat. Because Jesus defeated them in Himself, He will defeat them in you.

Conclusion

Do you see the outcome in our passage? The Devil's attempt was vanquished, and so he gives up the battle and runs away! The victory of Christ over Satan's kingdom is ours through Christ and through faith in Him. James says "Resist the Devil, and he will flee from you." (James 4:7) Resist him with God's word. Why else did Jesus say "It is written" when He quoted Deuteronomy to the Devil? Christ honored the scripture, and gave us an example. The word of God is the "sword of the Spirit" (Eph. 6:17), the only offensive weapon in our armor. We must use it when we are tempted! "Has God really said...?" Yes, He has!

Remember that the Devil is your enemy, but he is your conquered enemy. Christ "has defeated and disarmed him; we have nothing to do but pursue the victory."5 Jesus said "the ruler of this world...has no claim on me" (John 14:30); "the ruler of this world is judged." (John 16:11)

1 Cor. 10:13

No temptation has overtaken you that is not common to man. God is faithful, and he will not let you be tempted beyond your ability, but with the temptation he will also provide the way of escape, that you may be able to endure it.

And so "we are more than conquerors" through Jesus Christ. (Rom. 8:37)

After Jesus was tempted, the angels came and ministered to Him.

Christ defeated the Devil in His own strength. His armies of angels are not necessary for Him to defeat Satan.

Yet Christ was tempted, and as a man was worn from that temptation. Here you have a reassurance that when you are worn from temptation, God will take care of you. He will renew your strength, He will refresh your soul. Remember with Psalm 23,

He leads me in paths of righteousness for his name's sake. Even though I walk through the valley of the shadow of death, I will fear no evil, for you are with me; your rod and your staff, they comfort me. You prepare a table before me in the presence of my enemies; you anoint my head with oil; my cup overflows. Surely goodness and mercy shall follow me all the days of my life, and I shall dwell in the house of the LORD forever.
News -
Sermons
Written by Tim Black
Wednesday, 14 January 2009 02:00
James: A Handbook on Holiness
The Fact of Human Impotence
James 3:1-5
General outline:
The Way to Holiness: The Divine Perspective 1:2-27

The Trial-Temptation Complex 1:2-18

The Word of God 1:19-27

The Principles of Holiness: The Biblical Framework 2:1-26

The Law is the Structure of Holiness 2:1-13

Faith is the Dynamics of Holiness 2:14-26

The Implementation of Holiness: The Christian Experience 3:1-4:10

The Obstacle to Victory: Human Impotence 3:1-9

The Fact of Human Impotence 3:1-5

The Root of Human Impotence 3:6-9
James 3:1-5
The Warning
1 Not many of you should become teachers, my brothers, for you know that we who teach will be judged with greater strictness.
The Ground
2 For we all stumble in many ways, and if anyone does not stumble in what he says, he is a perfect man, able also to bridle his whole body.
The Illustrations
3 If we put bits into the mouths of horses so that they obey us, we guide their whole bodies as well.
4 Look at the ships also: though they are so large and are driven by strong winds, they are guided by a very small rudder wherever the will of the pilot directs.
5 So also the tongue is a small member, yet it boasts of great things. How great a forest is set ablaze by such a small fire!
Discussion Questions:
V. 1: Should every Christian seek to become a teacher? Consider 1 Cor. 12:29, 31; 1 Tim. 3:1-2. _________________ Should every Christian be a teacher? _______________________

V. 2: Why does James say not many should become teachers? __________________________

Vv. 3-5: How are the tongue's effects like that of a

Bit in a horses' mouth? ______________________________________________________

Ship's rudder? _____________________________________________________________

Small fire? ________________________________________________________________

Where this week have you let your tongue get out of control? Where has it set something on fire? Ask God to help you control your tongue.
News -
Theology
Written by Tim Black
Tuesday, 13 January 2009 20:46
A friend of mine from seminary asked for some good sites providing resources for Reformed youth ministry. For your and my sake I'm posting what I came up with.
Check out -

Reformed Youth Ministries - I only know it as RUF for high schoolers, but I expect they are good. Their resources page looks good.
http://www.ruf.org/ - the mother lode - get their RUF Hymnbook shortcut If not their site, their people are the ones to find.
http://reformedyouthpastor.com/ - good videos
Reformed Youth Services - appears to be a ministry of the URC
http://www.sowhatstudies.org - Youth Bible studies by Great Commissions Publications

I bet RTS and Covenant Seminary have some resources; I know Covenant Seminary has decided to put all of their course material online for free.

While I wouldn't use their resources exclusively, when I want to find a Bible study guide, SS curriculum, or book for a discussion group, I'd look first at the following because I know their material is reformed:

Presbyterian & Reformed Publishing
Great Commissions Publications
Matthias Media
Westminster Theological Seminary Bookstore
Beyond that I might call up the CRC because they had lots of youth material when I was growing up; they can be more theologically liberal than I prefer, though, so like everything you have to be discerning.
I've seen a catalog from the Vision Forum, and while they have resources for youth, there's something about their classical education / homeschooling / American Revolution / Christian reconstruction / old fashioned clothes style that seems atavistic to me. There might be some good material there, though.

I'm not familiar with this site:
http://reformingstudents.com/

Some articles from Modern Reformation:
July/August 2003 Vol: 12 Num: 4 - Every-Generation Youth Ministry by G. Mark Sumpter Side Article
July/August 2003 Vol: 12 Num: 4 - Engaging the Coming Generation: An Interview with Colleen Carroll by
Jan./Feb. 2001 Vol: 10 Num: 1 - Charles Hodge on Christian Nurture by Side Article
Jan./Feb. 1995 Vol: 4 Num: 1 - Reforming Youth Ministry by David Fields

I'm sure there's more out there.
The guy in the OPC to hit up for materials is Rev. Mark Sumpter. He writes,
If you want a general theology overview with discussion use, try RC Sproul What is Reformed Theology? Presently our Youth Class uses it. The teacher adapts the study guide material for discussion purposes. Some of the material will be a little advanced, but with guidance it is do-able. The class or youth group setting would watch a 25 min video and then discuss things.
If you want a study on the Doctrine of God, His attributes, I have used JI Packer's Knowing God. IVP (Intervaristy) puts out a study guide that goes with the book. Usually students are given a summary of the chapter, I type it up, and then I use the summary as a basis for orienting the class to the doctrinal topic. The study guide helps as a discussion guide.
If you want a excellent study on calling, purpose in life, work, giftedness, and servanthood, I recommend the newer book by John Piper. The book is fairly readable, a paperback, and is called, Don't Waste Your Life. There are one or two spots that may be a little advanced, but on the whole it is excellent. One of the editions of the book has a CD with it. On the CD Pastor John Piper speaks to students. He's excellent. The book handles really well God's Lordship in our lives, materialism, wasting your life with run-of-the-mill American Church-i-anity, and so on. His chapter on work, earning a wage, why work, why a job is great. I think there's a study guide with this book too.
If you want a study on learing about a worldview and apologietics, you might try the video series called Every Thought Captive. It is a series available from Reformed Seminary in Orlando, FL. It's done by Richard Pratt. I think there are about 8-10 sessions in the whole of the material. I have used the series, a little selectively, and then make use of the 8 1/2 X 11 study guide materials. I photo-copy the sheets. He takes a student through the the basics of why we know what we know, and therefore, why we believe what we believe. A little advanced in places but a good possibility. Again, like the RC Sproul material above, I would show a 20-25 minute video and then stir some discussion with the young people based on the study guide. Pratt has a book by the same title.
If you want a good study on Bible texts, biblical culture, and some sound theoogy tied into the Biblical texts try the video series That the World May Know, by Ray Vander Laan. Vander Laan is the well-known Christian school teacher back in Michigan who published about 8-10 years ago a multiple-series of teaching on Bible lands, Bible places, and good engaging lessons on Bible study texts and stories. If you Google in the web That the World May Know, it will come up. Videos, CDs, study guides and discussion material is provided. I have heard of two of OPCs using it. Both have been blessed. Vander Laan teaches at a CRC-based Christian school, at a High School, so he can connect with young people. It may be a little expensive, but check around: maybe a local church has it in their local church library there in San Jose and they'll let you check it out, or have Covenant go ahead and purchase it. Maybe you can buy it in increments. Tim, I have heard it's good stuff. I have never gone through it myself. But on the testimony of others, it's good.
I know that some churches are using the Jerry Bridges material: Trusting God, The Joy of the Fear of God, and Transforming Grace----and other books. These all have study guides. These are excellent in grace-based, sanctification issues and Christian growth issues. Again, the leaders would have to provide chapter summaries, and work through the study guides to prepare some discussion sheets. Good stuff. I have used parts of the Bridges material for counseling and studies.
I (Tim) note that I've read some reviews of Ray Vanderlaan's teaching which convinced me that he has some strange and sometimes erroneous interpretations of scripture, so I can't recommend his material.
Last Updated on Tuesday, 22 March 2016 08:05
News -
Sermons
Written by Tim Black
Sunday, 11 January 2009 15:44
Introduction

On January 20th our country will witness the inauguration of Barack Obama as the 44th president of the United States, and some of you will listen to his inauguration address. What will he say? Likely he will thank those who have helped him, and encourage us to pursue what he believes is a good plan for the future of America and for the world. At the center of the inauguration ceremony he will take the oath of office, in which he will commit himself publicly to serve as our president. For our new president and our nation it will be a high day, full of pomp and circumstance. And if President Obama says the words "So help me God" after his oath, we must pray that God will help him do what is right, and restrain him from doing what is evil.

Our passage today presents the inauguration of Jesus Christ. Its form is so different from our nation's presidential inaugurations that you could easily miss its purpose. This is the inauguration of Jesus Christ. Here Christ begins His public ministry as God's Son and our Redeemer. Though He humbly spent the first 30 years of His life in obscurity, out of the public eye, now "the Sun of Righteousness shall rise" (Mal. 4:2), and "the glory of the Lord shall be revealed, and all flesh shall see it." (Is. 40:5)

Outline. What happened at the inauguration of Jesus Christ? There is both a great humiliation, and a great exaltation. In vv. 13-15, Jesus submits to God the Father. In vv. 16-17, God the Father approves of His Son.

Jesus Submits to God the Father vv. 13-15

God the Father Approves of His Son vv. 16-17

Body

Jesus Submits to God the Father vv. 13-15

First, Jesus submits to God the Father. In vv. 13-15 we read,

13 Then Jesus came from Galilee to the Jordan to John, to be baptized by him.

14 John would have prevented him, saying, "I need to be baptized by you, and do you come to me?"

15 But Jesus answered him, "Let it be so now, for thus it is fitting for us to fulfill all righteousness." Then he consented.

Jesus' purpose to be baptized by John v. 13

Notice here Jesus' purpose to be baptized by John, John's objection to baptizing Jesus, and Jesus' reason for being baptized.

Jesus' purpose to be baptized by John is clear. He travels from Galilee to the Jordan, no short distance, specifically to come to John the Baptist, and to be baptized by him. Jesus' purpose is deeper than merely to undergo the outward washing of baptism, however, and His true intent can only be recognized in the significance of John's baptism.

John's baptism was an ordinance which God had appointed for all His true followers in Israel to undergo at that time. God sent John the Baptist to call His people to repentance, and to baptize them to symbolize God's washing their sins away. Jesus submitted Himself to God's ordinance. In this you see Jesus' holy submission to God the Father. Here we see the beginning of Christ's public obedience as a man to all the law of God.

But there is more. John's baptism was a baptism for sinners, and Jesus was not a sinner. Why did He need to be baptized? This should amaze you. He "who knew no sin" (2 Cor. 5:21) submitted to a baptism of repentance. He came "to be baptized by a sinner, as a sinner, and among sinners."1 Here Christ not only submits to God, but places Himself in the most humiliating position. By becoming a man, Jesus began His state of humiliation. He has already "emptied himself, and made himself of no reputation. He is not only found in fashion as a man, but is made in the likeness of sinful flesh," and therefore allows Himself to be baptized "as if He needed to be washed, though perfectly pure; and thus he was made sin for us, though he knew no sin."2

John's objection to baptizing Jesus

John the Baptist immediately objects! He tries to put a stop to this madness. "Jesus, how can you ask me to baptize you as if you are a sinner, when I am the sinner?! You are greater than me; I'm not even worthy to untie your sandals, and you want me to call you a wicked sinner? May it never be!"

Jesus' reason for being baptized

But Jesus says, "Let it be so now." "John, there's a reason why I must be treated as a sinner. I must be treated as a sinner because you are a sinner. I am taking the form of a servant in order to be the servant of all."

Jesus says "thus it is fitting." John thought it was not fitting for John to humiliate Jesus Christ, because Jesus was the greater of the two. But Jesus calls John to forget the comparison between the two men for the moment, and remember why Christ came into the world. "Jesus Christ came into the world to save sinners." (1 Tim. 1:15) And to save them, He must be made like them "in every way," be identified with them, and represent them, even bearing the reproach of their sins.

It was also fitting that John should baptize Jesus because it was an appropriate means to transfer God's work of saving His people from the ministry of John to the ministry of Jesus. John's ministry was public, widely known, and even highly respected at this point. But Jesus' ministry had not yet been revealed to the general public. Though for a little while this baptism furthered Jesus' humiliation and John's exaltation, in God's time it would bring about John's own declaration that "He must increase, but I must decrease." (John 3:30) "It was fitting that he, for whom and by whom all things exist, in bringing many sons to glory, should make the founder of their salvation perfect through suffering." (Heb. 2:10)

It was fitting, Jesus says, "to fulfill all righteousness." Christ was "born under the law to redeem those who were under the law, so that we might receive the adoption as sons." (Gal. 4:4) It was necessary for Christ to obey all of God's requirements, all of God's law, throughout His whole life, in order for Him to serve as our representative before God the Father, in order for God's justice to be satisfied in the Covenant of Works. In the Covenant of Works, the first Adam disobeyed God, but Christ the last Adam obeyed God even unto death on a cross.

Now understanding that in this way the Seed of the Woman's heel would be bruised as He crushed the Serpent's head, that it was necessary for the Christ to suffer and then enter into His glory (Luke 24:26), John the Baptist consented and baptized Jesus.

God the Father Approves of His Son vv. 16-17

In my place condemned He stood—even here in Christ's humiliation is the glory of God's grace. But as God says to you much more He brought about for your Savior--"Humble thyself in the sight of the Lord, and He will lift you up." "Clothe yourselves, all of you, with humility toward one another, for 'God opposes the proud but gives grace to the humble.' 6 Humble yourselves, therefore, under the mighty hand of God so that at the proper time he may exalt you, 7 casting all your anxieties on him, because he cares for you." (1 Pet. 5:5-7) "20 For what credit is it if, when you sin and are beaten for it, you endure? But if when you do good and suffer for it you endure, this is a gracious thing in the sight of God. 21 For to this you have been called, because Christ also suffered for you, leaving you an example, so that you might follow in his steps. 22 He committed no sin, neither was deceit found in his mouth. 23 When he was reviled, he did not revile in return; when he suffered, he did not threaten, but continued entrusting himself to him who judges justly." (1 Pet. 2:20-22) "Therefore let those who suffer according to God's will entrust their souls to a faithful Creator while doing good." (1 Pet. 4:19) Humbly Jesus entrusted Himself to His Father in heaven, and for that reason God highly exalted Him.

Text. We read how God gave His highest approval of Jesus in vv. 16-17, where God the Father approves of His Son.

16 And when Jesus was baptized, immediately he went up from the water, and behold, the heavens were opened to him, and he saw the Spirit of God descending like a dove and coming to rest on him;

17 and behold, a voice from heaven said, "This is my beloved Son, with whom I am well pleased."

"Went up"

First, Jesus "went up from the water." "Others that were baptized staid to confess their sins (v. 6); but Christ, having no sins to confess, went up immediately [from] the water."3

Notice that this passage does not teach baptism by immersion. The Greek does not say Jesus went up "out" of the water, but rather that He went up "from" the water. As such the passage does not teach that He came up from under the surface of the water, but that He came up from the bank of the river. In v. 13 He had come to the edge of the Jordan to be baptized (indicated by the preposition epi), and now having been baptized he comes from the edge of the Jordan (indicated by the preposition apo). Even the word "went up" (anabaino) indicates travel by foot with a horizontal component, rather than rising vertically, which is more commonly indicated by anistemi, "to rise," epairo, "to raise" in one's arms, or anatello, "to move upward" like the motion of the sun or stars.

"The heavens were opened to Him"

Notice how good God's timing is—it was when those present still had their eyes on Him that "the heavens were opened to Him." The heavens were opened to make plain to all men that Jesus had full communion and open communication with God the Father and God the Spirit. He can talk to the Father any time He wants, with no fear of judgment. Even the boundaries of creation bow to the truth Jesus proclaimed, that "I and the Father are one." (John 10:30)

This great mystery of the Trinity, that there is one God in three Persons, and that those Persons are eternally united to one another in love, is not only worthy of all creation's worship. It is also the source of your salvation. The heavens were opened "to him," to Christ, but they were not opened for only Christ to see. John the Baptist also saw heaven opened and the Holy Spirit descend on Jesus (John 1:32), and so probably the crowds around saw these events as well. These things happened for your sake, so you would know that through Jesus Christ's perfect communion with God the Father a way has been opened for you to be reconciled to God.

"Your sin has separated you from God" (Is. 59:2), but through Christ the heavens are now open to you also, so that like the angels on Jacob's ladder you now enter into the Holy of Holies and have access to the throne of grace.

"The Spirit of God descending like a dove"

To further demonstrate the infinite and exhaustive unity between Jesus Christ and the other Persons of the Godhead, God the Spirit and God the Father both indicate their full approval of God the Son.

Jesus and John, and the others present, "saw the Spirit of God descending like a dove and coming to rest on Him." This should call us to remember the Spirit hovering—like a bird—over the waters at creation. At His inauguration Christ began the work of bringing the new creation to life.

Christ who in His divine nature is of one substance with the Holy Spirit, received this endowment of the Spirit in His human nature to set Him apart as a prophet, for all the prophets spoke by the Holy Spirit. He also received the Spirit as the Head of the church, so that the Spirit whom He received, like the oil poured out on Aaron's head ran down to the edges of his robe, Christ would later pour out on the church at Pentecost. He "received gifts for men" (Ps. 68:18) now in order to give "gifts to men" (Eph. 4:8) later.

Is. 11:2 had prophesied "the Spirit of the LORD shall rest upon him" to give Him wisdom, understanding, counsel, might, knowledge and the fear of the Lord. At the beginning of His ministry Jesus quoted Is. 61:1, which said the Messiah would say "The Spirit of the Lord God is upon me, because the Lord has anointed me to bring good news to the poor...to bind up the brokenhearted, to proclaim liberty to the captives...to proclaim the year of the Lord's favor."

And now the Spirit descended in the form of a dove (cf. Luke 3:22). The Spirit did not appear in the form of a man, for the human form God has reserved for Christ. But a dove is marked by gentleness and innocence. We who are in Christ are to be "innocent as doves" (Matt. 10:16), and the Holy Spirit is Holy. God demonstrated Christ's holiness and innocence by the pure relational harmony, the open communion between Jesus Christ and the Holy Spirit, between the second and the third Persons of the Trinity. "God is light, and in him is no darkness at all." (1 John 1:5) "Every good gift and every perfect gift is from above, coming down from the Father of lights with whom there is no variation or shadow due to change." (James 1:17) Just as a dove brought news to Noah that the flood was receding from the face of the earth, so in Jesus Christ there is peace on earth for men on whom God's favor rests. "11 For I know the plans I have for you, declares the LORD, plans for wholeness and not for evil, to give you a future and a hope. 12 Then you will call upon me and come and pray to me, and I will hear you. 13 You will seek me and find me. When you seek me with all your heart, 14 I will be found by you, declares the LORD, and I will restore your fortunes and gather you from all the nations and all the places where I have driven you, declares the LORD, and I will bring you back to the place from which I sent you into exile." (Jer. 29:11-14) Jesus Christ is the end of the Exile, the end of your life of sin, for you who have faith in Him.

"This is my beloved Son, with whom I am well pleased."

Lastly, God the Father spoke in the hearing of all present that "This is my beloved Son, with whom I am well pleased."

God did not leave the events of Jesus' inauguration without the authoritative and clear explanation of His word. Like at Mount Sinai, they saw no form of God the Father, but rather heard His voice. (Deut. 4:12) "The law was given through Moses; grace and truth came through Jesus Christ." (John 1:17) This gospel is the best news that has come from heaven to earth, for "it speaks plainly and fully God's favour to Christ, and us in him."4

God's words read this way in the Greek: "My son, the beloved, in whom I am well pleased." You can recognize in these words God's relation, God's affection, and God's satisfaction in Jesus Christ.

God's Relation: Son

God declares the relation Jesus has to Him. Jesus is God's Son.

He is God's Son from all eternity in His divine nature.

He is God's Son in time because He was conceived by the Holy Ghost.

And He is God's Son in God's covenant and redemption because He represents us before God as our Redeemer.

God's Affection: Beloved

God also declares His affection for His Son. Jesus is God's "beloved." There is no one else whom God loves more than Jesus Christ. And for that reason, when God unites you to "His beloved Son," then you can be sure He will give you "redemption, the forgiveness of sins." (Col. 1:13-14) "He who did not spare his own Son but gave him up for us all, how will he not also with him graciously give us all things?" (Rom. 8:32) "Behold what manner of love the Father has given unto us, that we should be called the sons of God!" (1 John 3:1)

God's Satisfaction: Well-pleased

You can be certain not only that God loves His Son, but also that God is "well-pleased" in His Son, Jesus Christ. God declares not only His affection for, but also His satisfaction in, Jesus Christ. Even in the OT God declared the pleasure He takes in God the Son,

Isaiah 42:1

Behold my servant, whom I uphold, my chosen, in whom my soul delights; I have put my Spirit upon him; he will bring forth justice to the nations.

Notice that God is not only pleased with, but is pleased in His Son. Not just with Christ on the outside, but with Christ on the inside, in His character, and in all those who are found in Him. In that word "in" you should see God's gracious readiness to unite you to His Son in order to also be pleased with you who are found in Christ.

And in fact God is pleased not only with Christ, but with you, if you have called out to Him to save you through Christ's death and resurrection. If you have done that, Eph. 1:6 says God has now made you "accepted in the Beloved." He delights in you, because of Christ your Savior. Through Christ who alone is righteous on your behalf, God delights not only your person, but your works, and your worship. Through Christ we now "offer spiritual sacrifices acceptable to God through Jesus Christ." (1 Peter 2:5) Outside Christ "God is a consuming fire" (Heb. 12:29), but in Christ He is your reconciled Father.
Conclusion

At Christ's inauguration, Jesus submitted to God the Father, and God the Father approved of His Son.

Because Jesus submitted to God the Father, undergoing a baptism of repentance for the remission of sins, in order to represent you before God the Father, you too must repent of your sins! If you have not been baptized, you should follow Him in being baptized! You should follow Him in being willing to humbly suffer in this life on His behalf as you await the day when you will follow Him to glory.

Because God the Father approved of His Son, you should also rejoice in His great mercy and grace to you, at His love which He gives to you through Jesus Christ, in calling you now a son of God. If you have any doubt that Jesus is the Son of God, remember why Jesus said, "The Father who sent me has himself borne witness about me." (John 5:37) He said that to remind you, and all people, that God has miraculously, supernaturally, with all authority and power, with all the clarity, necessity, and sufficiency of His own word, declared Jesus Christ to be His Son. There is no good reason to doubt Christ's divinity or Messiahship. There is no good reason to doubt that He is the Savior, the "way, the truth, and the life," without whom no one can come to the Father.

At Christ's inauguration He was revealed as your Savior, and your God. "Listen to Him" (Matt. 17:5), love Him, worship and serve Him with all that you are. No earthly king is as gracious, as just, as righteous, as infinite, eternal, and unchangeable, as Jesus Christ, the King of kings, and Lord of lords. Lift up your hearts to give glory to His name.
News -
Theology
Written by Tim Black
Saturday, 10 January 2009 10:46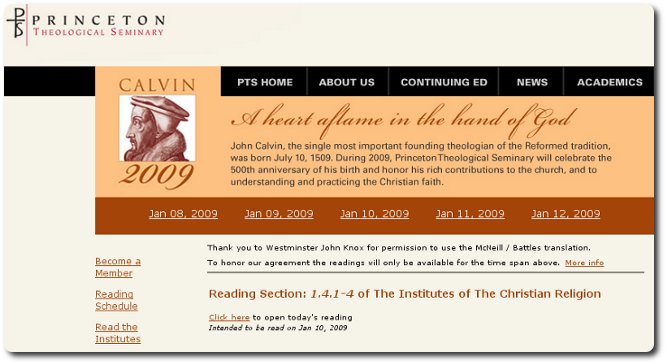 Princeton Theological Seminary is hosting "A Year with the Institutes," a daily reading of Calvin's Institutes, on its website.  Point three of today's reading is summarized in Battles' heading:
3. We are not to fashion God according to our own whim
And Calvin's first sentence for today reads,
As experience shows, God has sown a seed of religion in all men.
But the audio recording of that sentence provided by Princeton says this:
As experience shows, God has sown a seed of religion in all people.
You can catch up on the gender-inclusive language debate in the comments on Princeton's site.  I'm reminded of Richard Muller's excellent book, "The Unaccommodated Calvin," which shows how Calvin's interpreters like to fashion Calvin's meaning according to their own whims, and recommends it's better for your soul if you don't do that.
Old school liberal theology is dead in the academy, but it hasn't been replaced by a return to conservative orthodoxy at Princeton.  It's been replaced with neo-orthodoxy and varieties of postmodernism, which allow the same practical results as liberalism did:  loose views of scripture, Marxist biblical interpretation, social activism, & politics, women in office, approving of homosexuality, etc.  So, in my estimation, Princeton understands its roots in the conservative Reformed tradition and considers itself Reformed, but isn't conservative, so isn't Reformed, at least not in a sense of which Calvin would have approved.

So I think it's fine to recommend discerning readers follow the proposed reading schedule, but I wouldn't encourage the average church member to seek spiritual guidance from the plan's organizers at Princeton.
Last Updated on Saturday, 10 January 2009 11:45
<< Start < Prev 1 2 3 4 5 6 7

8

9 10 Next > End >>


Page 8 of 18